My daughters love Frozen II. Frankly, so do I (that soundtrack, among other things). In the movie – and I am being intentionally vague here – there are four symbols that in one scene appear on ice crystals. After seeing the movie I sat down to design these elemental crystals in Fusion 360, and this is the first version I feel comfortable sharing. You can find them on Thingiverse.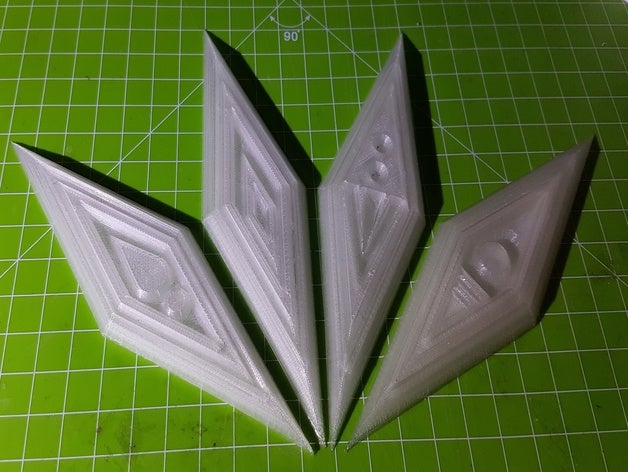 How to print Elemental Crystals
First of all, the .stl-file you can download stands on a tip, and you need to rotate it to lay flat on the print bed, unless you are printing a full version (with both sides). Those print better than expected when standing on the tip, but obviously require support material. I recommend at least 50 layers, which you might have to force in your slicer due to the angles involves.
I used transparent PLA for the prints depicted. As for the exact settings, they probably vary from printer to printer, and you need to find what works best for you. I did have issues with warping in about half of the cases. Which sucks, because the idea is to glue two of these back to back to make a full elemental crystal. That only happened with the transparent filament, though, so that may just be a fluke. I'd love to hear about your experiences here.
Yes, 3D-Printing!
I am doing 3D printing now! Which is not really new, because I have had a 3D printer for years. But I have recently started to design things. I do have a background in working with 3D software. And as long as I stick to straight lines and defined curves, that should come in handy. We will see what comes of it, but I am happy with how these crystals turned out. If you are curious, you can find my other 3D-models here.
So what else is coming?
I will do more 3D projects in the future, but there will still be general roleplaying content as well as paper models. As frequent as they have been recently, which probably says a lot.
Still, it is a good idea to subscribe to my newsletter so you don't miss anything new. I promise you won't get too many e-mails from me. And if you enjoyed this, have a look at my papercraft selection. While they are 3D, you can make them with a 2D printer, which I think is pretty rad.
Thanks for stopping by, and remember to Be Inspired!